WHILL Power Chairs have received more awards than any other devices in their class. With their compact size, patented omni wheels, remote app control, and advanced battery technology, our products allow you to explore the world effortlessly. With its impressive power, smart technology, and superior handling, the Model Ci2 allows you to live the life you aspire to.
Introducing the Whill Smart Chair Options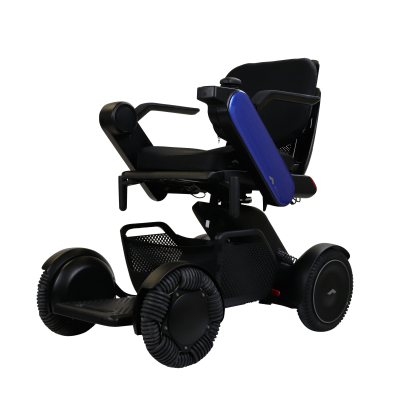 Whill Ci2 Power Chair
Whill Fi Power Chair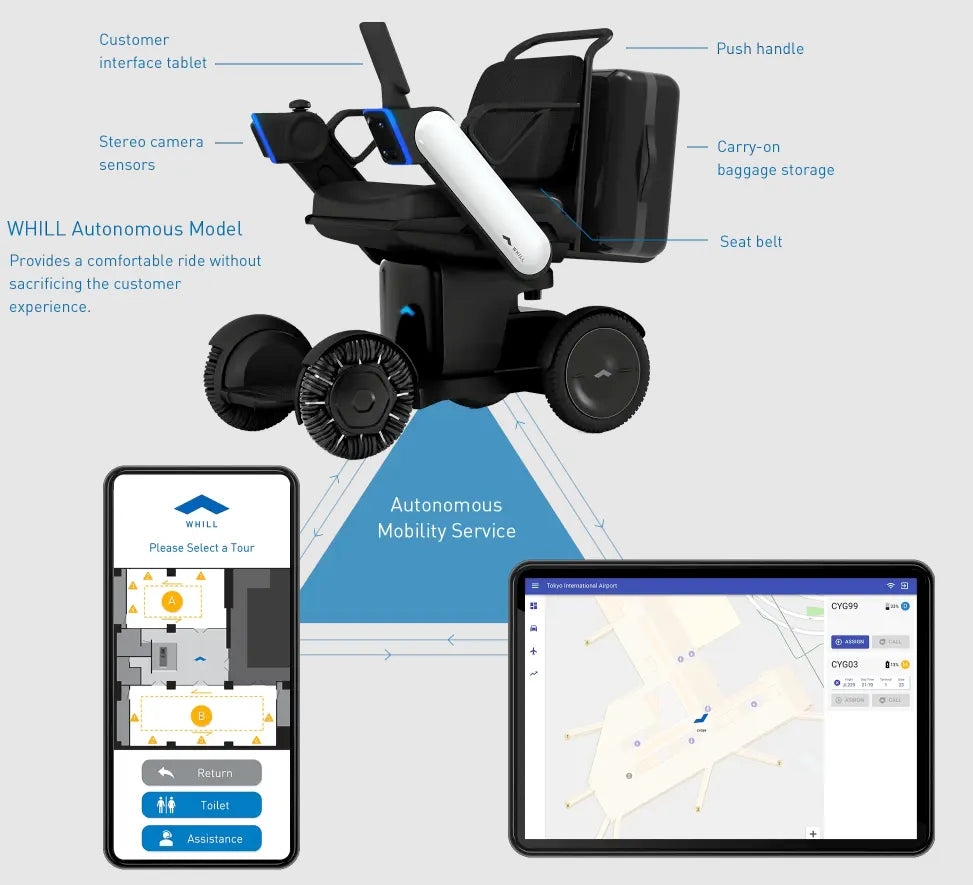 WHILL Autonomous Mobility Service
WHILL Autonomous Mobility Service offers a solution comprised of autonomous mobility devices compatible with our fleet management system. Our safe and reliable systems are designed to integrate seamlessly into any business and are custom-made to complement your unique environment.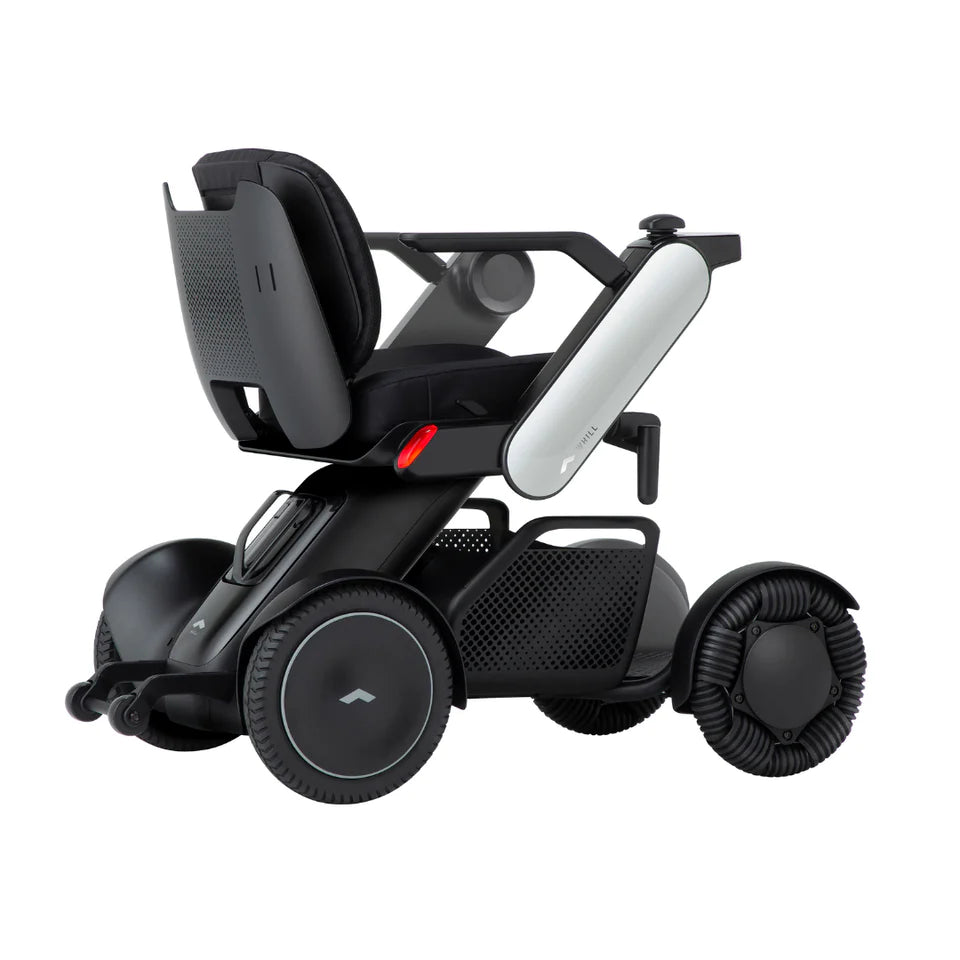 Highlights & Features of the Ci2
• Seat Depth 18" with Optional 16, 18 and 20 Inch Width's
• Max Weight Capacity:250 lbs.
• Control and manage speed settings with the WHILL Model Ci iPhone app
• Stay active longer with up to 10 miles per charge.
• Get there faster with a top speed of 5 MPH
• Easily disassemble into three lightweight parts for transport in any vehicle.
• Lithium Battery is included.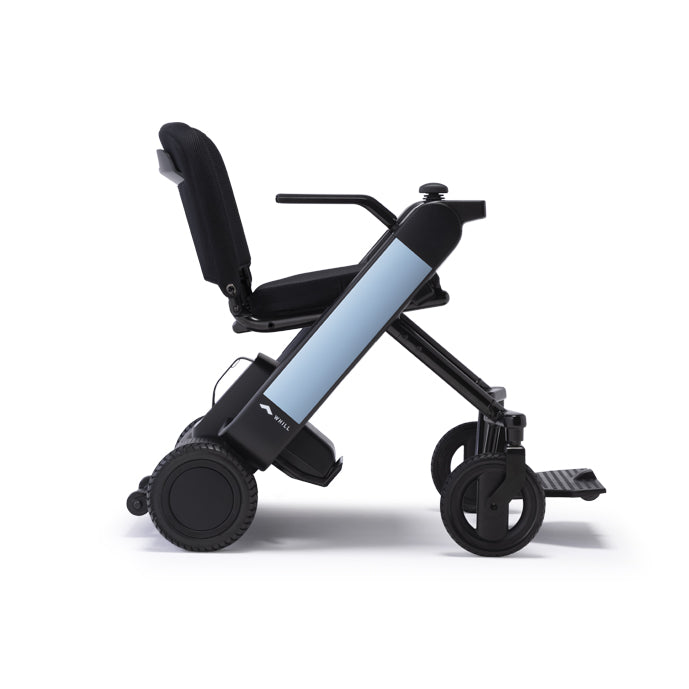 Highlights & Features of the Fi
• Foldable- Easily transport the Model Fi on buses, trains, and planes – or in the trunk of a car or taxi.
• Storage- When not in use, the Model Fi can be conveniently stored in a closet or out-of-the-way corner of the room
• Lightweight- Weighing only 52.9 lbs., the Model Fi is one of the lightest power chairs on the market today.
• Connect Intelligently- The WHILL app allows you to check key device information and drive the Model Fi remotely.
• Drive with Peace of Mind- Stay engaged in activities and embrace your surroundings knowing the Model Fi will keep you safe while you ride.Water Resistant - Sealed components are resistant to splashing water and rain. No need to cover controller or device with a protective cover
Whill Ci2 and Fi Comparison Chart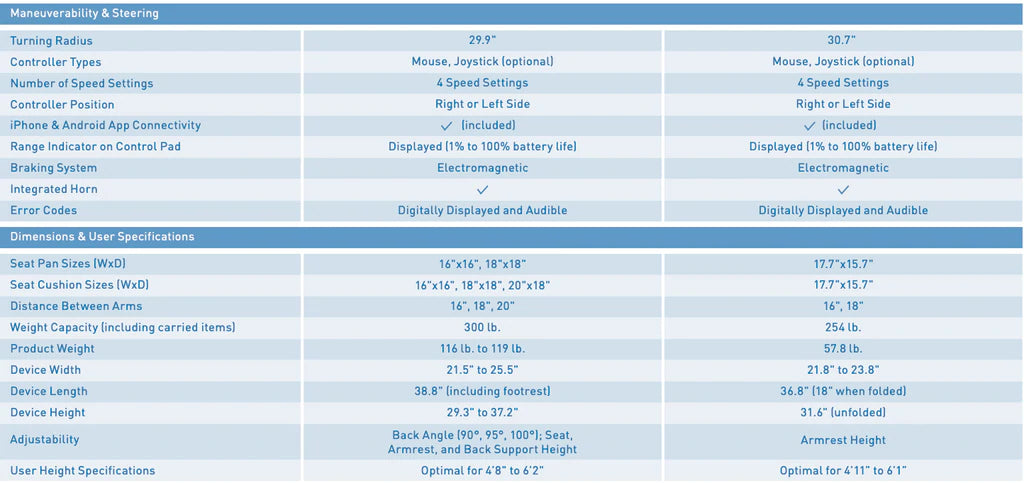 Have a Product Question? Contact us